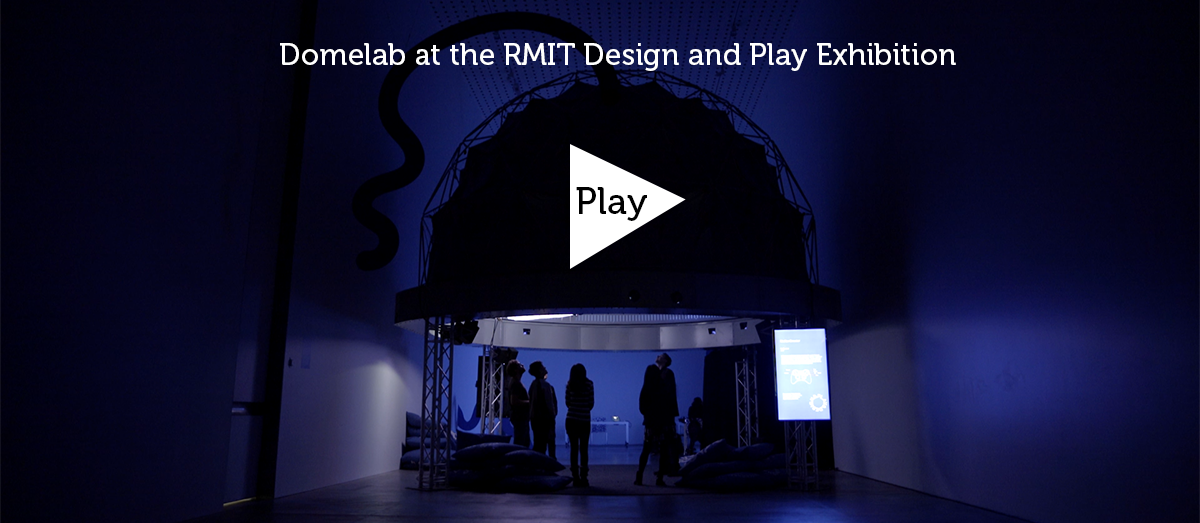 RMIT University presented the Design and Play exhibition form 29 April 2016 – 14 May 2016 at the RMIT Design Hub Gallery. As part of this exhibition, the Centre for Game Design Research presented DomeLab.
Fulldome is a significant new medium that provides an innovative fully immersive visualisation space that goes beyond the typical framing of traditional cinema and desktop computing spaces. DomeLab is the first mobile ultra-high resolution (4K) (4096 x 4096 pixels) experimental fulldome in Australia. The immersive, dome-based video projection environment is 6m wide and uses negative pressure technology to create a perfect 6m wide hemisphere horizontally suspended over the audience. The visualisation of Domelab uses eight projectors that are supported by high-end workstations to provide a seamless ultra high resolution display. Domelab provides researchers with advanced immersive and interactive visualisation opportunities and is putting viewers at the epicenter of a multi-sensory experience.
Domelab assists researchers in extending conventional models to facilitate engagement into more complex information spaces and in doing so helps to advance new frontiers in immersive visualisation, intelligent interaction, collocated and networked interactive media experiences, museology and digital humanities research. It does this by providing an innovative fully immersive expanded field of representation as well a technical framework that puts the audience into an inhabitable information space with fully embodied audio-visual qualities that facilitates audience interaction as well as aesthetic experimentation, interrogation and analysis of the screen content. As such it provides a powerful platform for a range of disciplines that rely on the representation of multi-dimensional data for games, interactive media art, virtual heritage and digital archaeology, new museology and digital humanities, indigenous astronomy and storytelling.
Domelab at the Design and Play Exhibition was curated by A/Prof Stefan Greuter and featured games, virtual art and video experiences developed by artists and designers and students. A full list of works can be found here.
Domelab was also accompanied by a 'Live Lab' that enabled researchers to develop, refine and further explore the creative process of content production for the Domelab environment.  The 'Live Lab' consisted of large Ultra High Definition Displays and Virtual Reality Hardware powered by the latest computer and graphics hardware to produce, render, program, compile and simulate work and prepare it for deployment on the Domelab visualisation environment. The work in the Live Lab was supported by staff and students from RMIT who provided expertise in regards to 3D Animation, Interaction Design, Technical Design, Game Design, Game Art and Games Graphics Programming and provided support to the students of the Masters of Animation Games and Interactivity Program as well as the delegates of the Domelab Masterclass to develop and test content for DomeLab and exposed the creative content development process to visitors of the exhibition.
The exhibition was also be accompanied by a Masterclass in collaboration with Melbourne Knowledge Week (2-8 May 2016) covering the development of linear video and animation based content as well as real-time content including virtual art and digital games for this unique fulldome visualisation system. The Masterclass was led by Prof Sarah Kenderdine, Prof Paul Bourke and Associate Professor Stefan Greuter.
Domelab was showcased at the Design and Play Exhibition for the first time in Victoria, Australia. The Design and Play Exhibition attracted over 2000 visitors, making it the most successful exhibition at in the RMIT Gallery Space to date. Over 15 unique stories about Domelab at the Design and Play Exhibition have been published on news websites. During the three weeks of the exhibition, Domelab was the centre of 7 industry functions and 8 ticketed live performances by Dr Jonathan Duckworth, James Hullick and live music by the Bolt Ensemble and 4 Artist floor talks.
Acknowledgements
Domelab at the Design and Play Exhibition acknowledges the work of everybody involved in making Domelab at the the RMIT Design and Play Exhibition a huge success. In particular we would like to thank the Prof Larissa Hjorth, Lisa Byrne, Fleur Watson, Kate Rhodes, Nella Themelios, Erik North, Tim McLeod, Kate Riggs, Chloe Powell, Tin and Ed and Bianca Valentine. Domelab at the Design and Play Exhibition also would not have been possible without the support from Prof Martyn Hook (Dean School of Media and Communication), Prof Swee Mak (Director of the former Design Research Institute), the School of Media and Communications Research Committee and the College of Design and Social Context.
Domelab Alliance
Domelab is supported by an alliance of 15 investigators from 11 organisations whose pioneering research is at the forefront of new media art, interactive media, new museology and digital humanities and funded by an ARC LIEF grant:
Prof Sarah Kenderdine (UNSW) | Prof Michael Thielscher (UNSW) | Prof Martin Nakata (UNSW) | Dr Shawn Ross (UM) | Prof Paul Arthur (UWS) | Prof Ross Gibson (UC) | Dr Stefan Greuter (RMIT) | Prof Paul Bourke (UNSW) | Prof Christopher Lueg (UTAS) | Prof Jeffrey Shaw (CityU) | Drew Berry (WEHI) | Timothy Hart (MV) | Margo Neale (NMA) | Dr Lynda Kelly (ANMM)
Laboratory for Innovation in Galleries, Libraries, Archives and Museums (iGLAM), UNSW | iCinema Centre for Interactive Cinema Research, UNSW | University of Western Sydney | University of Canberra | Centre for Game Design Research, RMIT | University of Tasmania | City University of Hong Kong | Walter and Eliza Hall Institute of Medical Research | Museum Victoria | National Museum of Australia | Australian National Maritime Museum | AARNet | Intersect Australia