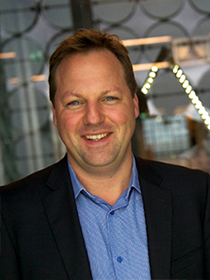 Stefan Greuter is Professor of Screen and Design in the Motion.Lab at Deakin University in the School of Communication & Creative Arts and leads the development of creative technologies research and development. 
Stefan's research addresses problems by bringing together experts from multiple disciplines and utilities game design and the creative use of technology to develop solutions that result in serious games applications and playable user experiences that have been exhibited or are available online for download
Stefan supervises HDR students with an interest in serious games and playable user experiences. His supervision resulted in the successful completion of 6 candidates to date.
He established the Centre for Game Design Research (CGDR )at RMIT University in 2015 and directed the centre from 2015-2017. The CGDR brought together researchers and students from multiple disciplines to design, analyse and critique electronic games and playful activities and to grow our knowledge and appreciation of electronic games and play in modern culture. During this time the CGDR generated approximately 1.5 million dollars of research income and its members won 7 awards including highly prestigious awards such as the news and on national television and was exhibited at top-tier venues.
As Associate Dean, Stefan led the development of the digital design disciplines that included Electronic Games, Digital Media and Animation at RMIT University from 2009 – 2014. During this time I led the restructure that introduced a design focus and the design based studio model in the Games and Animation programs and established the highly successful Digital Media program in the School of Media and Communication at RMIT University.
He holds a Doctorate of Philosophy in Visual Communication and his postgraduate studies were supported by two prestigious scholarships from the German Academic Exchange program (DAAD) and the Australian International Postgraduate Research Scholarship (IPRS).
Stefan has 10+ years of leadership experience. Before his work at RMIT he led the development of intranet learning and teaching solutions and serious games applications for Swiss Banking Corporations and Telecommunication Companies.